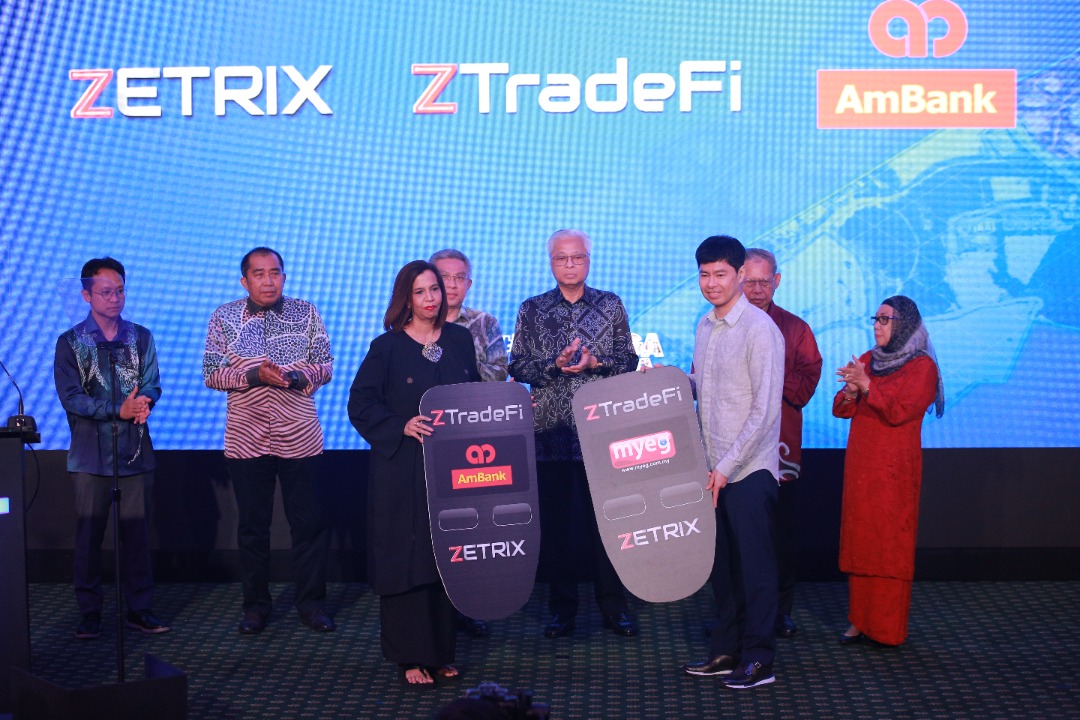 MYEG's Zetrix partners AmBank to pilot trade financing on blockchain subject to relevant approvals
Zetrix TradeFi (ZTF) is a pioneering blockchain based supply chain and invoice financing platform.
Zetrix will collaborate with AmBank to pilot blockchain based financing subject to relevant approvals.
Zetrix TradeFi will facilitate trade in line with the Regional Comprehensive Economic Partnership (RCEP).
PRESS RELEASE
06 Oct 2022
(Kuala Lumpur) MY E.G. Services Berhad's ("MYEG") Zetrix today launched the pilot for its cross border trade financing solution, Zetrix TradeFi ("ZTF"), with AmBank as the pioneer bank participating on the blockchain based digital platform.
The launch of the pilot was announced alongside the Memorandum of Understanding between MYEG and MIMOS Technology Solutions Sdn Bhd to jointly develop and work towards operating the national layer 1 public blockchain using Zetrix and MIMOS blockchain technology, as the components of the Malaysia Blockchain Infrastructure (MBI). The MBI is a key strategy of the National Blockchain Roadmap that was launched by the Ministry of Science, Technology and Innovation (MOSTI) on 9th August 2022
Dato' Sulaiman Mohd Tahir, Group Chief Executive Officer of AmBank Group commented," AmBank is proud to be among the first financial institutions in Malaysia to explore blockchain technology to facilitate our customers' transactions which is aligned with our broader digitalisation agenda. This also augurs well with our strategy of empowering SME's growth by providing them with a more efficient and cost effective cross border trade system.
Mr. Wong Thean Soon, Group Managing Director of MYEG commented: "This is another important milestone in our evolution to be a leading global Web 3.0 platform. The digitalisation of trade via blockchain will bring efficiencies that will not only enhance mainstream ecommerce, but ultimately outstrip its growth because the majority of trade remains in the B2B sector and not adequately addressed by web2 platforms such as eCommerce. This is the blue ocean that Zetrix TradeFi will capture with blockchain."
Zetrix, which was launched into Mainnet on 15th April 2022, currently hosts decentralised applications, or DApps, such as NFT Marketplace NFTPangolin and Blockchain Identifier service Zidentity.
China has been Malaysia's largest trading partner for 13 consecutive years, reaching a record high of US$176.80 billion trade volume in 2021. Moreover, Malaysia, China and the other 13 member states of the Regional Comprehensive Economic Partnership (RCEP), which was entered into force on 1 January 2022, accounts for 30% of global GDP.
In the pilot, ZTF will connect Malaysian businesses with their Chinese counterparties to enable cross border Sino-Malaysian financial and trade connectivity. The ZTF platform leverages the immutability of the blockchain and document digitisation to enhance the credit management and disbursements involved in cross border trade, saving time and minimising human error or intervention.
This unique differentiation of next generation trade connectivity will catapult Malaysia to become the innovation leader within the RCEP.